More and more, we hear about new products that are safer for our families as well as the environment. Of course, we always wonder,
"Do they work well?"
"How would I use that?"
"Is it worth the transition?"
What is your green question?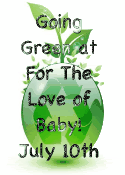 Now you can find out!! Mark your calendars and get ready to party while we "Go Green"!
There will be plenty of opportunities to learn about cloth diapering, natural cleaners, green alternatives, and so much more! And not only will you learn, many of you will be walking away with green prizes of your own!